This year it's the 20th anniversary of the Undley Pumpkin Patch! Attractions for 2019, supported by a huge team of ground staff, include a brand new magic show as well as inflatable attractions – a pumpkin bouncy castle, a further witch hat bouncy castle and a farm-inspired assault course. Here's a rundown of what's currently confirmed at Undley Pumpkin Patch in 2019 with further announcements to come in due course.
Sign up to join the Undley Farm mailing list to be kept abreast of events and developments at Undley Pumpkin Patch.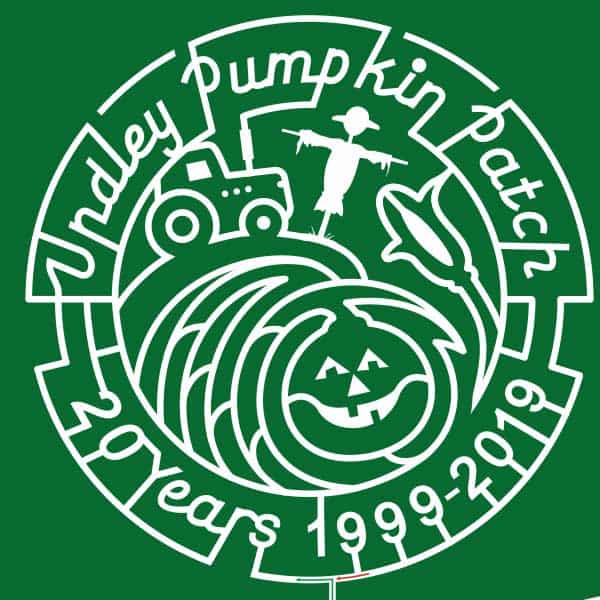 Anniversary Maize Maze
The 2019 '20 year anniversary' Maize Maze is set within an entirely new Pumpkin Patch site and is one of the largest ever hosted by Undley Farm Events. The totally new and equally enormous 2019 maize maze makes an anniversary crest featuring a scarecrow, tractor, pumpkin and maize. Once again the maize maze will be hosting a cash prize quiz.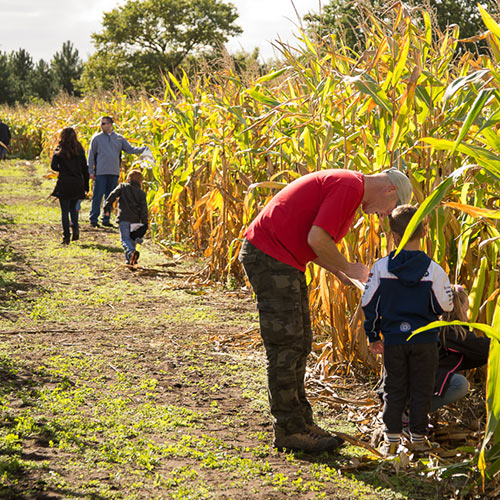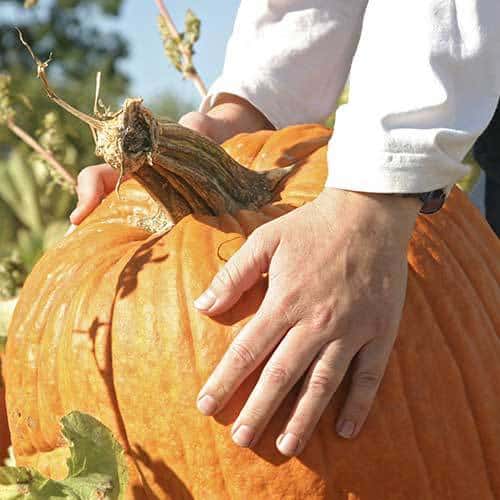 Pumpkin Picking direct from the vine
Pumpkin picking direct from the vines – a highly pleasing and unusual sight to view set against the rural backdrop of Suffolk farmland. With thousands of pumpkins available and approximately 20 varieties of pumpkin on offer – ranging from small to huge – visitors in 2019 will be amazed by the incredible spectacle of pumpkins on offer with an excellent selection lasting right the way through October. The fleet of wheelbarrows – to transport your pick back to the (free) car park is on offer again this year. Also available is the incredible and ornamental selection of gourds and squashes.
New! Live Magic Shows
We are delighted to welcome stand up magician, Wayne Goodman to Undley Farm's Pumpkin Patch event. This versatile and talented performer effortlessly blends magic and comedy, offering far more than just magic tricks. His performances are both captivating and funny and he often leaves his audience both speechless and amazed.
The magician will be at the pumpkin patch everyday that it is open during October (weekends and throughout half term).
Booking information
There will two magic shows daily: at midday and at 2pm.
Tickets cost £4.00 per single ticket or £15 for a family ticket.
Under threes go FREE
We advise you pre-book your seats to the magic show as spaces are very limited.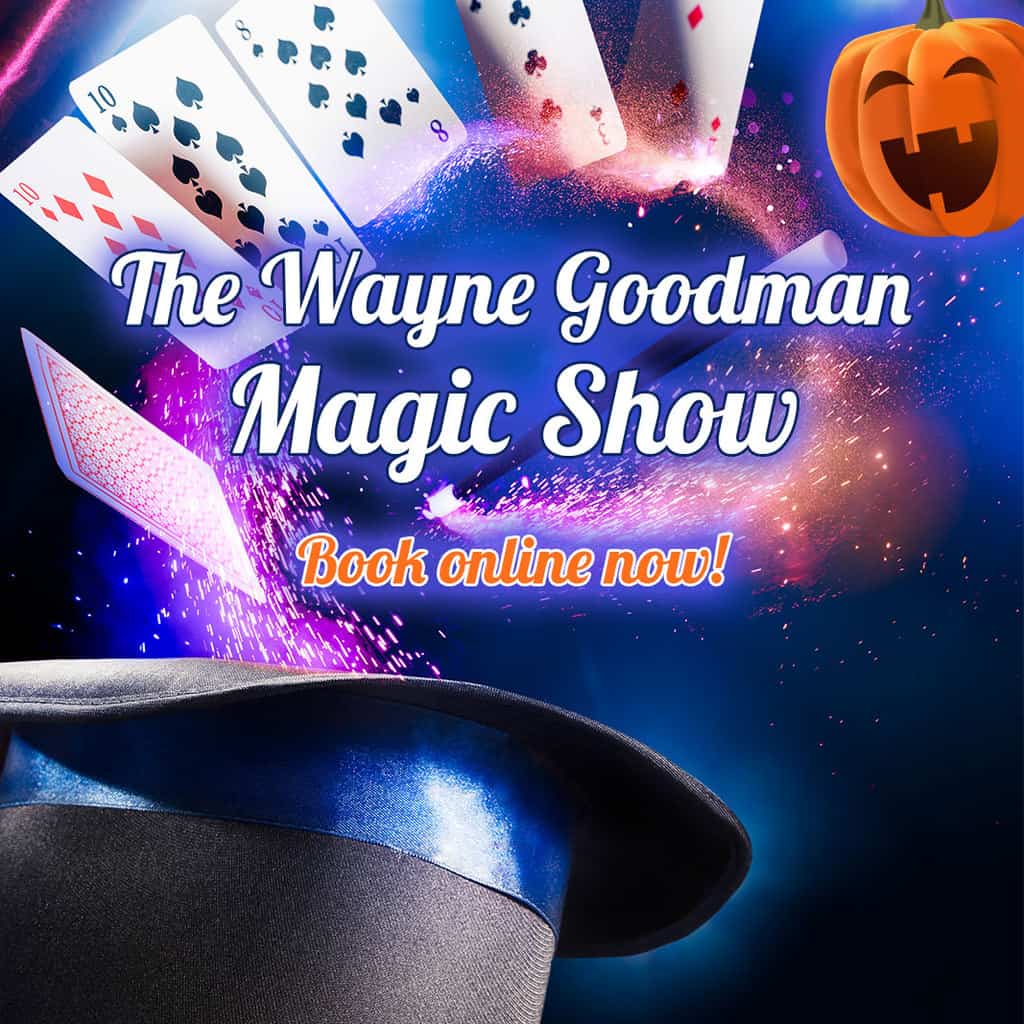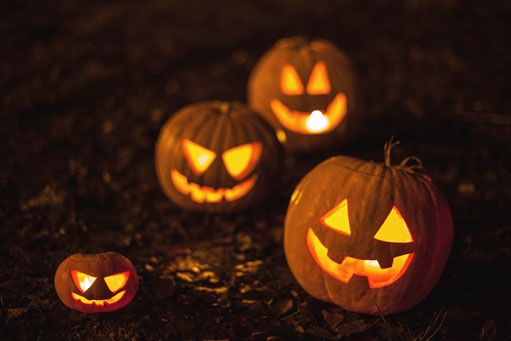 Pumpkin Carving Demonstrations
Our expert pumpkin carver Phil Grimes will be on site each day to demonstrate lots of techniques for carving your perfect pumpkin. There will be live demos twice each day at 11am and 1pm in the circus tent.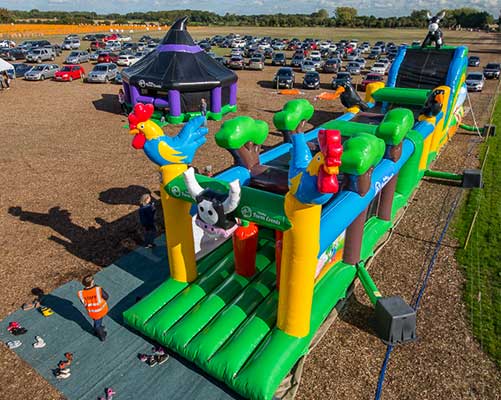 Inflatable attractions
Our inflatable attractions will be on offer again at the Undley Pumpkin Patch in 2019. The first is a Halloween inspired witch hat bouncy castle, which takes the form of an inflatable witch's hat, plus a farm inspired obstacle course, which provides an inflatable landscape to climb over, under and through. Also making a return again this year will be the popular covered pumpkin shaped bouncy castle.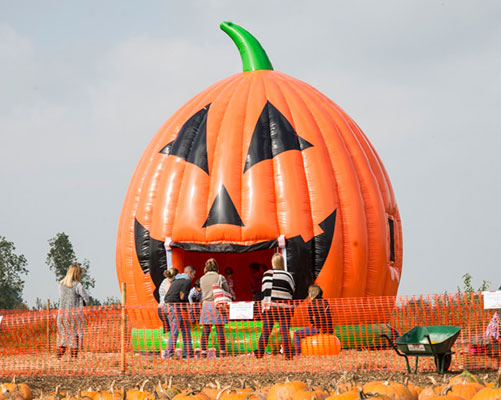 Cash Prize Competitions
Once again there will be plenty of cash prize competitions to take part in at the pumpkin patch. We have our big £1,000 prize draw with pumpkin purchases, our big maize maze quiz competition, a pumpkin carving competition, as well as best photo.
Also new for the 2019 event Undley Pumpkin Patch is hosting a brand new fancy dress competition, so wear what you dare and have fun! We will be judging entries at the end of October with a cash prize of £50 for the winner!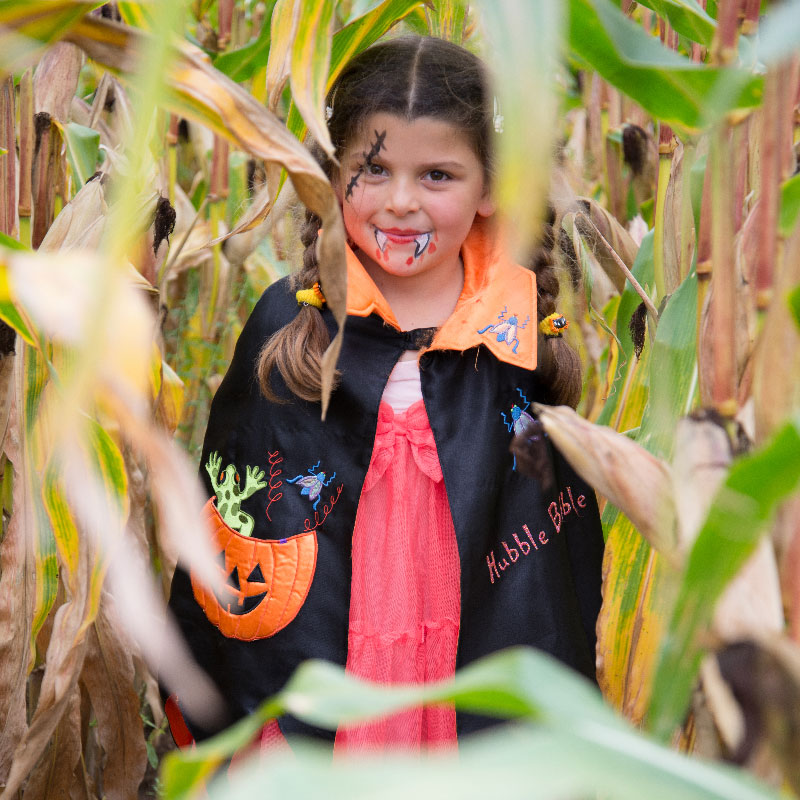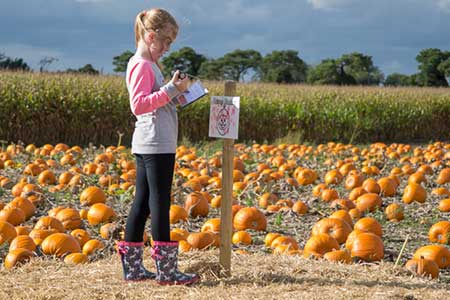 Stamp Station Trail
New to the patch in 2019 is our stamp station trail game. A free event open to all can be found at the entrance to the pumpkin field, track down the ten pumpkin heads which are representing various professions to win. The stamp station trail offers lots of family fun as well as plenty of hilarious photo opportunities with the pumpkin heads.
Birthday Parties
On our 20th birthday, we're celebrating by inviting you to enjoy your birthday party at Undley Pumpkin Patch! So, for an unusual and outdoorsy birthday party for your child this October, why not consider having it at Undley Farm?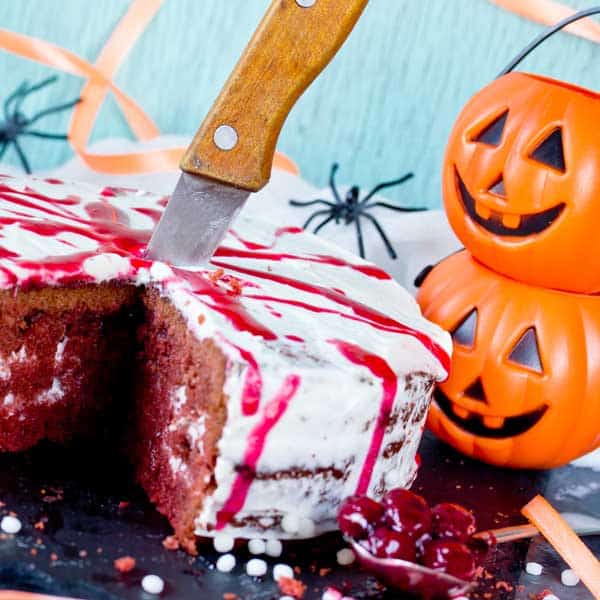 Donkey rides
Popular year on year, the donkeys, namely William, Wayne, George, Gordon, Tinker and Taylor, have returned to Undley Pumpkin Patch in 2018 and happily offering rides for small people again.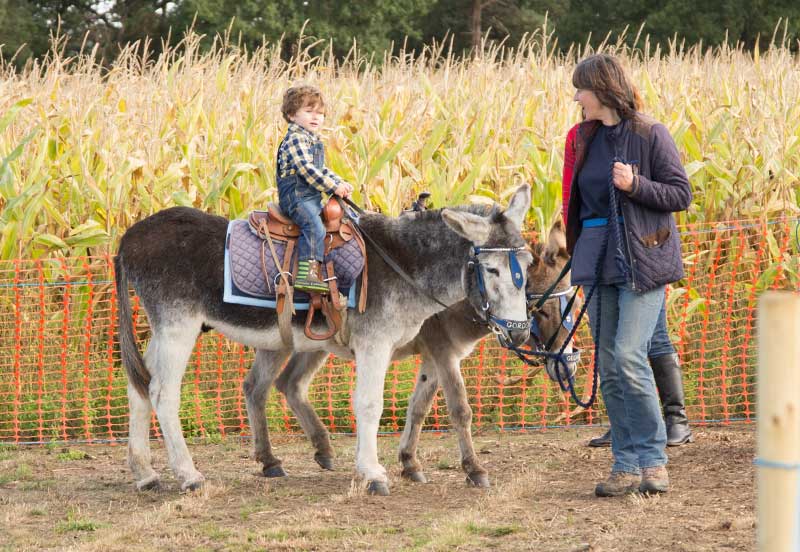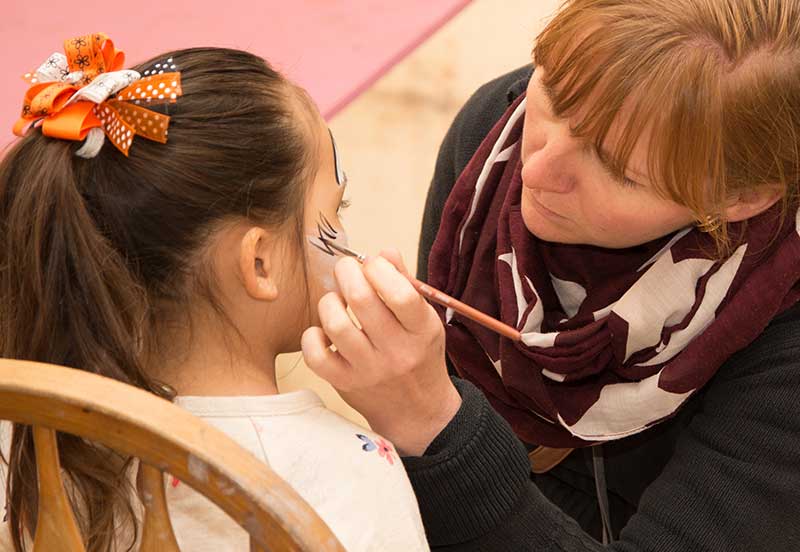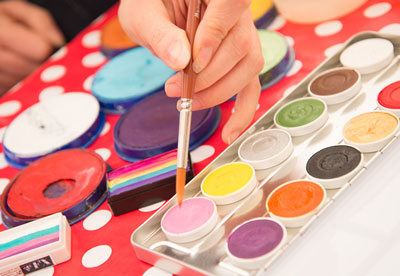 Face painting
A true favourite at the Undley Pumpkin Patch – the resident face painters are back in 2019 and offering their incredible skills in support of the creation of absolute works of art.
Walking pet balloons 
A complete hit last year, the walking pet balloon 'pen' (located within the craft marquee) has been reinstated at the 2019 Undley Pumpkin Patch. This year, you can choose from an even larger selection of these incredible and highly appealing animal inspired balloons which includes our popular unicorn walking pet balloon
.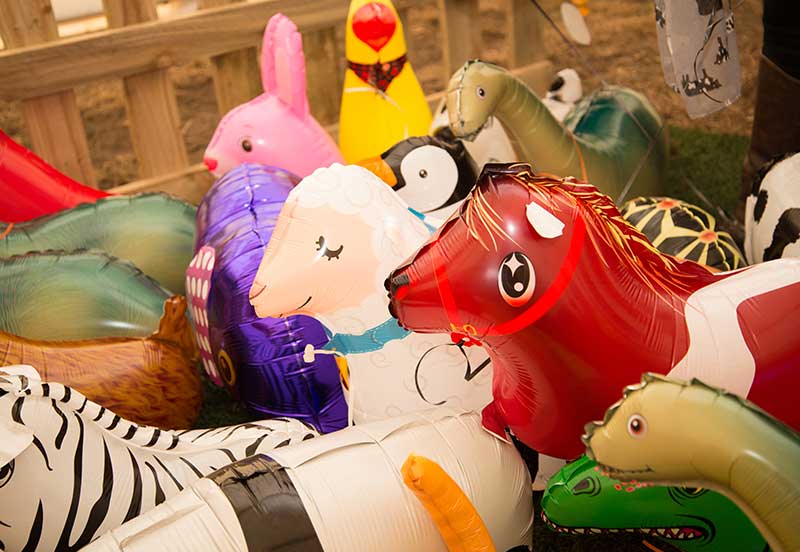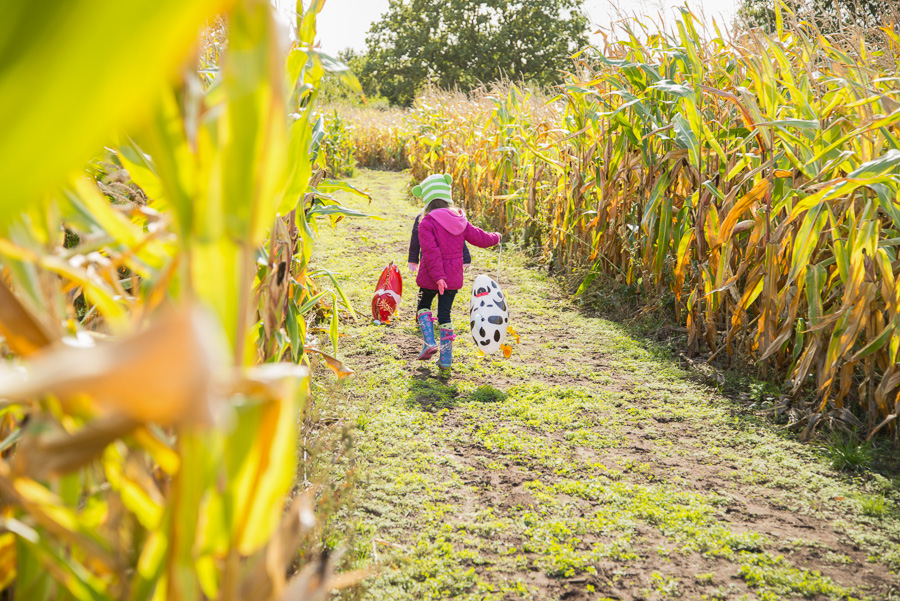 Refreshments
Succulent quarter pounder burgers, hot dog sausages – all sourced from a local butcher – and served in soft rolls with a choice of onions, cheese and all the traditional sauces will be on offer at the Undley Pumpkin Patch barbecue.
Also back for this year is the hog roast stand providing delicious hog roast baps with all the trimmings.
Back this year we will be offering wood fired pizzas from the pizzeria.
Also returning is our Halloween Food/Desserts Cabin, offering traditional Pumpkin Soup, Pumpkin Bread, Pumpkin Pie, Halloween Cookies & Cupcakes and Pumpkin Milkshake.